PVA, a global supplier of automated dispensing and coating equipment, is excited to announce its participation in Productronica India 2023, in collaboration with its distributor, Maxim. Productronica India, the International Trade Fair for Electronics Development and Production, will take place Sept. 13-15, 2023 at the Bangalore International Exhibition Centre (BIEC) in Bengaluru, India.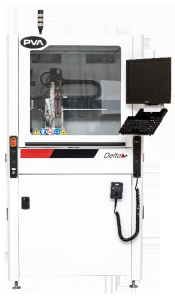 PVA's Asia Pacific Sales Manager Paul Kim will be in attendance to engage with industry professionals and to showcase the latest advancements in conformal coating and dispensing technology.
PVA offers flexible robotic conformal coating/dispensing systems that are ideal for selective coating, potting, bead, meter-mix dispensing applications, and more. With state-of-the-art valves, PVA ensures precise and consistent coating applications, offering an array of coating options to meet various requirements and specifications. 
With PVA's advanced dispensing and coating technology, electronics manufacturers can achieve superior protection for their PCBs, safeguarding them against environmental factors and ensuring reliable performance.
As a trusted innovator in precision application solutions, PVA is committed to providing cutting-edge technologies that enhance production processes and drive efficiency in various industries.