Aimil Ltd., an ISO 9001:2015 certified company with a heritage tracing back to 1932, holds a prominent position as a leading provider of cutting-edge instrumentation solutions in India. Their specialization lies in the creation of advanced testing equipment and facilities catering to various industries, including EV & EVSE, Noise and Vibration, Electrical Testing, Environmental Simulation, Condition Monitoring, Material Testing, Test and Measurement, Civil Engineering, and Healthcare.
As excitement builds, Aimil Ltd. is gearing up to participate in Auto EV India 2023, a prestigious event within the EV and Automotive sector. Scheduled to unfold at KTPO, Bangalore, from November 2nd to November 4th, 2023, this event presents a golden opportunity for visitors to explore Aimil Ltd.'s innovative solutions, all under the spotlight at booth no. F-1.

Featured Products at Auto EV India 2023:
MULTI MOBILE EV Charger Analyser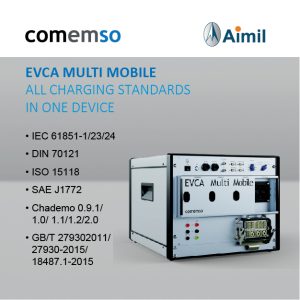 Technology:
Simulation, compliance, and interoperability are key elements in the development of chargers. Aimil, in collaboration with Comemso, presents a range of charger test solutions that encompass globally recognized charging standards. This ensures seamless conformance and functional testing, covering standards such as IEC 61851-1, DIN 70121, ISO 15118, SAE J1772, CharIN, and more.
Technological Applications:
The EVCA system serves as a valuable tool for charger and EV manufacturers, facilitating functional, quality, compliance, and interoperability testing.
Battery Cell Simulator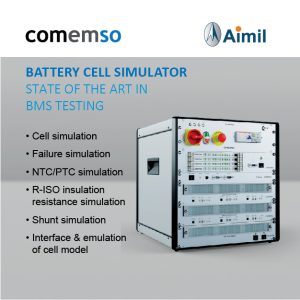 Technology:
High-precision cell emulation, with real-time model-based development, is crucial for Battery Management System (BMS) testing. Aimil, in collaboration with Comemso, introduces battery cell simulators equipped with active and passive balancing, isolation, NTC/PTC, and shunt simulation features, providing a comprehensive test environment for BMS testing. This system allows testing from cell level to pack level, ensuring the development of safe, energy-efficient, and long-lasting products.
Technological Applications:
Ideal for BMS testing in Hardware-in-the-Loop (HIL) or lab car environments.
Noise and Vibration Analyzer for EV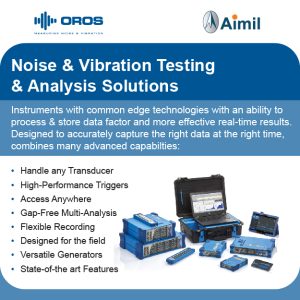 Technology:
The development of electric and hybrid vehicles introduces unique noise and vibration challenges. Aimil, in partnership with OROS, offers specialized solutions tailored for EVs. From motor noise generation to cabin emissions, a wide array of testing techniques and tools have been developed to address these challenges.
Technological Applications:
These solutions cater to in-vehicle testing, covering aspects such as battery cell and pack testing, BMS test units, DC bi-directional power supplies, loads, grid simulators, integrated test benches, RLDA instrumentation, and engine and powertrain solutions.
Auto EV India 2023, happening from November 2nd to 4th, 2023, at KTPO, Bangalore, offers a unique platform for visitors to explore Aimil Ltd.'s cutting-edge products and technological solutions. Booth no. F-1 awaits, providing an opportunity to witness innovation in action across the automotive industry.