Most innovative clusters of the automotive sector- electric vehicles,  and their need on Indian roads
Countries across the globe are striving hard to put a stop to a large amount of greenhouse gas emissions and India is doing its part in the same. India emits 7% of global emissions, despite having 17% of the world's population, and a major chunk of this comes from the transport sector. The need to adopt electric vehicles in India is now more than ever.
Despite electric vehicles being the most trending topic in the automotive industry for the last decade around the world, the people of India are yet to catch up. Electric vehicles haven't received the warmest welcome here as the registration of EVs in India stood at a meager 0.29%. Nonetheless, these numbers should be on the changing path as the government of India has announced that they are aiming to have EV sales accounting for 30% of private cars, 70% for commercial vehicles, and 80% for two and three-wheelers by 2030.
Why are EVs a necessity?
Electric mobility in India is the need of the hour because of the growing need to balance energy demand, energy storage, and environmental sustainability. EVs can help diversify the energy needed to move people and goods as they rely on not one source but a wide mix of energy sources which can highly contribute to pushing our energy security. With the pressure of inflation and dependency on other countries for oil imports, electric vehicles are the most viable solution. They are necessary in our bid for cleaner, greener energy uptake. India also strives to achieve zero net carbon emissions by 2070 and electric vehicles are the driving forces to help achieve these goals.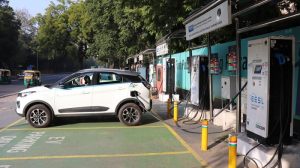 The history of electric vehicles in India can be dated back to 1996 when Scooters India Pvt Ltd came out with three-wheelers and named it VIKRAM SAFA. Around 400 vehicles were made and sold.  In 2001 India's first electric car- REVA was commercialized. But they could not taste success because of the various obstacles that hindered their growth. Electric vehicles need billions in investment. Lithium-ion batteries that are being currently used in electric cars are costly and battery performance being one of the most important aspects, cutting costs there is not a feasible option.
Do we have the competent infrastructure?
India suffers from a disbalance in the power supply-demand ratio. So given the infrastructure snag, EVs find themselves limited to within the radius of charging stations which is unacceptable for the buyers who won't be putting in their money to buy a vehicle that they cannot use for more than hopping within the city. Electric vehicles in India need a unified infrastructure like petrol stations.
Developments of charging booths and replaceable batteries as well as common battery standards are necessary. Charging booths can be accommodated in the existing fuel stations to help with their availability. Battery charging booths can be operated on renewable energy as India is blessed with sufficient wind and sunshine. That will also help to cut down the load on the yet-to-be surplus electricity grid. This could be a boost to Make In India as well. Charging maps to mark the nearest battery replacement booth and the charging status of batteries available there in real time could help accelerate the adoption of electric vehicles.
India needs to pave out a proper development model to make electric vehicles a popular choice. Companies need to invest properly in R&D as well as safe disposal of batteries to prevent an increase in e-waste. Developments in this sector will help India attract investments from across the globe. The 2022 budget, announced the battery swapping policy as an easier way to charge EVs. The government has also announced a production-linked incentive scheme for automakers, which aims to boost electric vehicle manufacturing.
The road ahead is long for EVs to become the first choice of vehicles in India, but it certainly is not impossible. With the right awareness and affordable vehicles, Indian roads should be buzzing with electric vehicles sooner than ever.