Counterpoint's Global EV Battery Tracker reveals impressive growth in global EV battery capacity and sales.
In the first half of 2023, the global electric vehicle (EV) battery capacity witnessed a remarkable 54% year-on-year surge, surpassing 300 gigawatt-hours, as reported by Counterpoint's latest research. Concurrently, global EV sales also experienced substantial growth, soaring by 43% year-on-year. Leading the EV battery market was CATL, followed by BYD and LG Energy Solutions, collectively holding nearly two-thirds of the market share in H1 2023. The primary regions for EV battery installations were China, the US, and Europe.
Senior Analyst Soumen Mandal highlighted the rapid transformation in the EV battery ecosystem, anticipating the emergence of new battery suppliers such as ACC, Verkor, Northvolt, and E4V. Additionally, major automakers like Tesla, Volkswagen, BMW, Mercedes-Benz, and Stellantis are venturing into in-house cell and pack manufacturing, intensifying competition in the battery supply chain.
Currently, Chinese and South Korean suppliers dominate the industry, with Chinese companies holding a two-thirds market share and South Korean players accounting for approximately 25%. As EV sales gain momentum globally, countries are aiming to establish self-sustaining battery supply chains, fostering competition and driving some players out of the market.
In H1 2023, Tesla, BYD, and Volkswagen collectively represented nearly 45% of the total EV battery capacity sold. Tesla's Model 3 and Model Y played a crucial role in boosting CATL and LG Energy Solutions, while Hyundai, Kia, and Ford's EVs contributed to the market share of SK Innovation. Notably, Panasonic remains a key player in North America, serving as the primary battery supplier for Tesla models.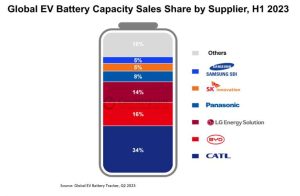 Research Vice President Peter Richardson disclosed that the average battery capacity of EVs in H1 2023 was 50 kilowatt-hours. With the rising popularity of small, compact, and mini EVs, especially in China, the average battery capacity is expected to hover around 65 to 70 kilowatt-hours by 2030. Richardson predicts that total EV-driven battery demand will reach 4 terawatt-hours in 2030.
Addressing the increasing demand for batteries and geopolitical tensions impacting lithium prices, Richardson noted a shift towards alternative chemistries such as sodium-ion (NA-ion). CATL has already made strides in sodium-ion battery chemistry, with expectations for mass adoption soon. While NA-ion batteries may not be suitable for performance EV models due to lower energy density compared to lithium-ion, they are anticipated to find widespread use in electric two-wheelers, three-wheelers, and small passenger cars. Chery's iCar brand is poised to introduce CATL's sodium-ion battery in early 2024. On the horizon, solid-state batteries are still in development and face challenges in achieving affordability before widespread commercial availability.