The world is reeling under the pressure of a shortage in the supply of semiconductors. No industry segment has been immune to this crisis and this fact has made the world realize the importance of semiconductors in general. The automotive sector, in particular, has been affected due to the sudden resurgence of car manufacturing and the inability of semiconductor foundries to tape out automotive-grade parts in a timely manner.
Modern cars are said to be so integrated with electronics that they are considered to be more computer than vehicles. But EVs are even more integrated with an estimated 500 to 1000 semiconductors per vehicle (approximately three times the ICE-based vehicles). As such, it is no surprise that EVs are particularly vulnerable to semiconductor shortages.
Recognizing the numerous challenges faced by semiconductor suppliers, Hyundai recently announced that it will manufacture its own automotive-grade semiconductors. To manufacture the part, Hyundai will be turning to its semiconductor affiliate Hyundai Mobis which will focus on developing and producing power semiconductors.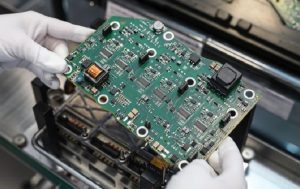 "We are focusing on power semiconductors and are in the process of developing and producing them. We also see system semiconductors as an area of development," the company said.
The report said that power semiconductors, developed and produced by Hyundai Mobis, are one of the key components that can extend the driving range of EVs, while high-performance semiconductors are necessary parts of autonomous driving and artificial intelligence.
Currently, six companies, including Renesas of Japan, NXP of the Netherlands, Infineon of Germany, Texas Instruments and Microchip of the United States, and ST Microelectronics of Switzerland supply 90 percent of the world's automotive system semiconductors.
Considering that over 90% of the world's automotive semiconductors are manufactured by just six companies (including Renesas, Microchip, and NXP), the move by Hyundai would help to move manufacturing to South Korean companies, which not only supports local supply chains but also reduces the dependence on South Korean auto-makers on foreign suppliers.
Hyundai also noted that while power semiconductors were a primary focus, it is also looking into developing platforms capable of accelerating AI. The increasingly complex nature of vehicles and the use of embedded AI require advanced semiconductors, but the disruption to the semiconductor supply chain makes it challenging for businesses to develop such technologies.