At present, more and more cars use O/LED as their lights, which have digital characteristics. Whether used as headlights, daytime running lights, steering lights, brake lights or taillights, they can provide more flexible designs for cars, make cars more personalized and visible, provide higher safety for cars, and enhance the difference and sense of value in automotive design, making digital lights different from traditional lights with excellent competitive advantages. This article will show you the development trend of digital car lights and the design solution of digital car lights introduced by Arrow Electronics.
Digital car lights have excellent performance and superiority
With the development of the automotive industry, digital car lights have been generally recognized by the automotive industry. Since Audi TT started a new era by using OLED taillights in 2016, and Audi Q5 launched digital OLED taillights in 2020, it has opened up a new direction in modelling, personalization and safety, and OLED has attracted more and more attention from car manufacturers. The characteristics of OLED, such as uniform light and ultra-thin surface light source without reflectors, determine its superiority over digital car lights.
Based on the display characteristics of OLED, it is easier to realize personalized control. In the automotive lighting system, digital lights have dual functions of illumination and complex pattern indication, such as side marker light, brake light, rear steering light, signal indicator and so on. With the continuous development and application of OLED technology in recent years, the function of car lights has been gradually upgraded from lighting and indication to information interaction and reached the height of design aesthetics and even light shows.
Since Audi adopted digital OLED taillights, taillights are evolving into a display medium, and in the next evolution, they can be expanded through various functions. In the medium term, digital OLED will have more light-emitting partitions, and each light-emitting partition can be controlled separately and activated systematically. In the future, in addition to the multi-functional modelling and personalization of lighting design, more functions can be realized. For example, digital OLED can send early warnings to other road users, such as information on vehicle conditions and road conditions, such as slippery roads and the end of traffic congestion, which will greatly improve the safety of automobile driving.

Highly integrated OLED driver chip
L99LDLH32, the latest OLED driver chip of ST, the leading manufacturer in the automotive chip market, has the advantages of high integration and good effect and is widely recognized by the industry. L99LDLH32 integrates 32 high-side channels, which can be used to drive multiple high-pixel OLED lamps in a distributed way, and is designed for the next generation of digital and personalized high-pixel car lights, so as to meet the design requirements of supporting more light-emitting units and more complex dynamic display effects.
The taillight driver and ECU are connected by a unique CAN-FD Light interface so that the taillight driver can be integrated into the lamp module, which shortens the connecting harness and realizes a personalized programmable taillight display. L99LDLH32 features the integration of 32 high-side channels, with a current output capacity of 1mA–15mA per channel (which can be configured as a parallel output to enhance the driving ability), and analogue and PWM dimming (independent or multiplex grouping) supported.
In addition, L99LDLH32 also has a built-in 1Mbit/s high-speed CAN-FD interface, which realizes flexible taillight driver area networking configuration, supports high-frequency refresh effect, and has a rich configuration, protection and diagnosis functions (open circuit, short circuit, over-temperature, chip and lamp board temperature monitoring), overtime watchdog, DIN input pin in fail-safe mode and other functions. It can help realize the ASIL B design requirements and conforms to AEC-Q100 standard, has low standby current, independent/fail-safe and bus mode operation and the working power supply voltage range is 5.5 V to 40 V.
Thanks to the high integration of the L99LDLH32 chip (bus transceiver, high-precision internal crystal oscillator, etc.) and the adoption of the QFN 7X7 package, the design of its peripheral circuit is greatly simplified and the PCB size is reduced. L99LDLH32 adopts distributed bus control, which shortens the wiring harness connection. Its schematic design is simple and convenient for rapid development. The device integrates a CAN transceiver, LDO and oscillator, so its peripheral devices are very simplified. L99LDLH32 can run in bus mode with a CAN FD Light compatible interface and can set two independent modes (Limp Home) with programmable EEPROM(FTP) memory.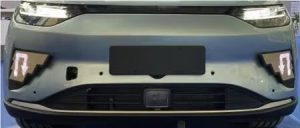 An ideal solution for automotive lighting applications
L99LDLH32 can also support the cascade of up to 128PCS, and the single CAN FD link can control up to 4k pixels, which is compatible with the places where large data pixels are used, and can operate in the working temperature range of -40°C to 150°C. It can feed back the voltage to the external pre-regulator to optimize the regulation voltage and minimize the overall power consumption and set the current of each channel through an 8-bit DAC. It supports analogue dimming, independent exponential brightness control of 8-bit PWM channel and 8-bit global PWM dimming, as well as programmable PWM frequency, with slow on/off time, progressive output delay and jitter clock to obtain better EMC performance.
L99LDLH32 is integrated with 8-bit ADC, for full and flexible diagnostic. It has 1 dedicated line for fault bus and provides temperature warning, over-temperature shutdown (2 temperature thresholds), short circuit and open load detection and protection. It can implement automatic LED current derating, through external NTC measurement and device junction temperature (TJ). A temperature sensor is integrated with the chip, and an external thermistor is supported to measure the external environment temperature. The dual temperature and multiple protection and diagnosis functions can ensure the safe and stable use of car lights.
L99LDLH32 also supports the control of up to 2 separate lighting functions and each channel can be mapped or not mapped to direct input, as well as having pre-regulated external power supply voltage, which ensures maximum flexibility in controlling different lighting functions consisting of different O/LED types, currents and lamp string lengths for applications such as automotive O/LED taillights and automotive ambient lighting.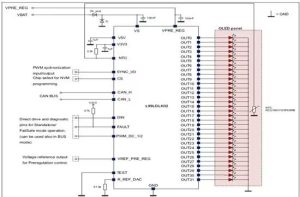 Provide complete reference design and technical support for digital car lights
The reference design of digital intelligent interactive headlights developed by the ESC team of Arrow Electronics in conjunction with ST and OLED screen suppliers has been installed on real cars at present. In addition, Arrow Electronics also designed an independent demonstration and showed it at the 2022 Electronica South China Exhibition.
The ESC department of Arrow Electronics has rich experience in supporting customers from prototype to mass production and can provide complete development materials, including demonstration of test and evaluation, schematic diagram of hardware design, software reference source code and software debugging support for the whole project, so as to facilitate customers to quickly develop their own projects and provide complete prototype solutions.
In terms of hardware support, Arrow Electronics has prepared fully functional demonstration samples and can support customers' projects, providing driving boards and control boards to facilitate customers to quickly customize engineering prototypes. In terms of software support, it provides reference source code and can help customers to do code porting and debugging projects, including source code based on SPC582B (initialization, FTP, ID, cascade, full-function demonstration of dynamic effects), can help customers porting source code to other platform projects, and provide ID and FTP download tools and automatic programming tools, as well as functional safety and EMC processing methods, and can also produce dynamic effects and provide comprehensive technical support for project development and production.
Conclusion
With the rapid development of O/LED technology, the colour, brightness and stability can meet the application requirements and the price is more reasonable, which accelerates and flourishes the application of digital car lights, with increasingly promising market potential. L99LDLH32, the latest OLED driver chip from ST, introduced in this article, is highly integrated, and the reference design of digital car lights introduced by Arrow Electronics will speed up the development of customers' products, which is worthy of further understanding and adoption by manufacturers interested in investing in related markets.
Author: