After India announced their mission to achieve net-zero emission by 2070, it has been bullish in focussing on the initiatives, programs and projects that can make them accomplish it. Regarding the same one of the major transformations that is erupting is in the automotive industry, the benefits are quite a lot and so are the challenges. Despite many challenges, e-mobility is the need of the hour. It is an effective approach to the decarbonization of transportation.
Albeit the popping of various initiatives, expos and projects are trailblazing India's aim to sell at least 30% of new vehicle sales to be electric by 2030. One such initiative is the EV30@30 campaign which complements India's ambition toward increased electric mobility to meet its developmental and environmental challenges.

To complete this ambitious change, a reliable and accessible network of EV charging infrastructure is a necessary prerequisite. To encourage the growth of the charging infrastructure network, the Indian government has implemented a number of enabling measures. To ensure that EV charging infrastructure is implemented effectively and on schedule, as well as to ensure that it complies with local regulations and is well integrated into transportation and electrical supply networks, a contextual approach is required.
To have an internal insight to the industry of charging infrastructure, TimesEV Sub Editor Sheeba Chauhan had an exclusive conversation with Mr. Raman Bhatia, Founder & Managing Director, Servotech Power Systems Ltd.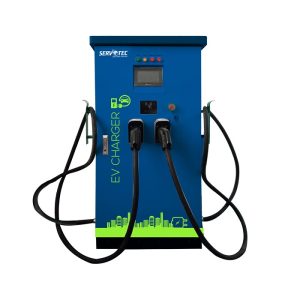 Exciting products range: Servotech offers a range of exciting products both AC and DC EV charging alternatives, utilisable for a variety of applications. These include: Spark series AC chargers: Best suited for domestic EV powering use, these range from 3.3kW, 7.2kW/11kw (Type-2), 10kw Bharat AC-001, and 14kW hybrid AC chargers and Squad series DC chargers: Perfect for commercial usage at highways, parking lots, and drive-through areas among others, these span from 30kW, 60kW, and 120kW, for varied fast-charging preferences.
Application Industries: Light electric vehicles (LEVs), which include two-wheelers (scooters, motorcycles) and three-wheelers, are anticipated to be the primary force behind India's transport electrification over the coming ten years (passenger and cargo). Other important vehicle segments that are being electrified include autos and light commercial vehicles (LCVs). Time-sensitive consumers in the developing EV charging industry will probably value their time highly enough to pay more for speed. They won't be inclined to utilise reservations applications and will instead search for accessible sites with the quickest charging times. In order to maximise availability and provide the fastest charges, providers who cater to these customers will install more capacity. In order to gain value in addition to the higher costs they bear, they will also demand a large premium over Level 2 stations.
Sales Network: Servotech is already present in 21 Indian states and is actively engaged in foraying into other geographies, zones, and niches. A case in point is channel reach out initiative that has already resulted in an amplified outreach of Servotech's services which will be further empowered and executed by close to 5,000 retail channel partners by the end of this year.
Expansion Plans: In the last fiscal, Servotech achieved significant progress toward our goal of making tech-enabled solutions affordable and available to everyone, with strong momentum across all of our strategy pillars. Consistent gross margins and EBITDA were reached as a result of calibrated pricing and a focus on cost optimization strategies and efficiency. Going forward, the team will continue to put more effort into growing our partner network programme, which has already assisted us in distributing our solar solutions throughout 21 Indian states. By opening our EV-charger area, which will be supported by our continuous R&D and innovation projects, we will also be able to successfully develop a competitive edge.
About the company: Servotech Power Systems is a multi-scale, multi-solution NSE- listed company that specializes in the end-to-end production, procurement, and distribution of high-end, customer-focused solar goods, medical equipment, and electric vehicles chargers' solutions along with power and backup and energy-efficient lighting products. Leveraging its nearly 2 decades of market leadership and technical expertise, Servotech has brought to the forth its all-EV friendly EV charging range, emerging as a change-maker in the EV charging space, engineering the building blocks of India's EV infrastructure.
Sheeba Chauhan | Sub Editor | TimesEV