More complex and connected vehicles also mean new security risks. This list features our top five hardware security modules and automotive security products that protect today's (and tomorrow's) vehicles from cyberattacks, data privacy attacks, and over-the-air malware.
S23G2 processor for vehicle networking
Automotive network security is a critical developing field. NXP Semiconductors' S32G2 Processors combine ASIL D safety, hardware security, and high-performance processing to help prevent cybersecurity attacks on automotive networks. S32G2 supports new vehicle network architectures by accommodating service-oriented gateways, domain controllers, zonal processors, safety processors, and more.
The S32G2 processors feature Quad ARM Cortex-A53 cores with Arm Neon technology. They include two clusters of two cores, Triple Arm Cortex-M7 lockstep cores for real-time applications, a Low Latency Communication Engine (LLCE) for network acceleration, a Packet Forwarding Engine (PFE) for Ethernet networks acceleration, and a Hardware Security Engine (HSE) for secure boot. They are automotive-rated for an AEC-Q100 Grade 2 device and provide hardware security features essential for protecting critical automotive systems from cyberattacks, such as an HSM (Hardware Security Module) and root of trust.
All combined, the S32G is flexible, scalable, and secure, meeting the stringent safety requirements of ISO 26262 and ASIL-D. If you want to 'get under the hood' of an S32G Processor, look no further than the next product on our list: the S32G-VNP-EVB.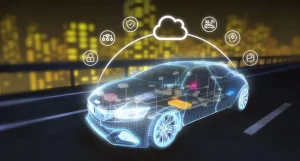 S32G vehicle networking evaluation board
The S23G-VNP-EVB is a development platform from NXP Semiconductors designed to support next-generation Ethernet-based automotive network applications. This evaluation board is built around the S32G network processor, an integrated automotive networking solution that combines high-performance processing with advanced networking capabilities, all shrouded behind astute hardware security.
The S23G-VNP-EVB platform provides automotive network and security engineers with solutions for developing applications such as advanced driver assistance systems, vehicle-to-vehicle (V2V) and vehicle-to-infrastructure (V2I) communication, and over-the-air-software updates. The evaluation platform includes several physical connectivity options, including Ethernet, CAN, LIN, and FlexRay, to allow engineers to integrate into existing automotive networks seamlessly.
For future designs, however, note that the S23G2-VNP-EVB may soon be replaced with the S32G-VNP-RDB2 or the S32G-VNP-GLDBOX.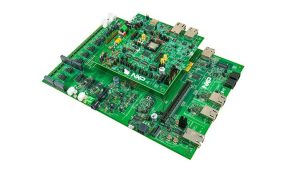 DeepCover Secure microcontroller (MAX32510) from Maxim Integrated
The MAX32510 is a highly secure ARM Cortex-M3-based flash microcontroller developed by Maxim Integrated (now Analog Devices). This microcontroller is explicitly designed for automotive applications and features advanced security hardware and safety features. MAX32510 features a hardware security module (HSM) with advanced cryptographic algorithms, secure boot, secure firmware updated capabilities, a memory protection unit (MPU), and a fault management unit (FMU), allowing it to cloak sensitive data under multiple layers of advanced physical security for secure key storage.
MAX32510 also includes loads of flexible peripheral interfaces and a high level of processing power. Some of the peripheral features that make this microcontroller attractive to automotive applications are an ISO 7816 Smart Card UART (without C4/C8), USB 2.0 with an internal transceiver, two SPI Ports, two UART Ports, one I2C Controller, 8 Timers (all with PWM capability), up to 28 general-purpose I/O pins, a 4-Channel 10-Bit ADC, and a 4-Channel DMA Controller.
Overall, the MAX32510 is a valuable solution for automotive engineers and hardware security experts who require a highly secure and reliable microcontroller that can be used as the central processor of an automotive embedded device or as a coprocessor for applications that require high computing power. It can support secure key storage, secure book, secure communications, certificate distribution/management, and NVSRAM with instant content destruction, making it ultra-secure for various automotive applications. See the MAX32510 Evaluation Kit to learn more about this MCU's capabilities.
SAMA7G54 Microprocessor from Microchip Technology
The SAMA7G54 is a high-performance, ultra-low-power ARM Cortex-A7 CPU-based 1GHz embedded microprocessor (MPU). This MPU integrates complete higher-performing imaging and audio-centric edge-based AI applications without a multi-core microprocessor. As the first 1GHz single-core MPU with a MIPI CSI-2 camera interface and advanced audio features, the SAMA7G54 allows the development of low-frame rate vision or audio-based AI applications for edge deployment where power consumption is a precious resource, such as automotive driver assistant or stereo vision applications.
Most notably, SAMA7G54 features a massive array of media peripherals and other connectivity. For example, it boasts advanced features such as four digital audio ports with an onboard 4-stereo-channel audio sample rate converter, native Sony/Philips digital interface (S/PDIF) transmit/receive ports and eight microphone inputs. It features an image sensor controller (ITU-R Bt. 601/656 supporting) and up to eight megapixels for still images and video at 60fps in 720p resolution. It also boasts a 2-lane MIPI CIS-2 and 12-bit RGB interface for a variety of image processing applications.
For security, SAMA7G54 features ARM TrustZone, secure boot with onboard key storage, and hardware cryptography, protecting sensitive data from unauthorized access. It also prevents the execution of unauthorized code at startup. SAMA7G54 features an optimized power management solution connection to MCP16501/2 PMICs to allow designers to fine-tune system performance and power consumption for their applications.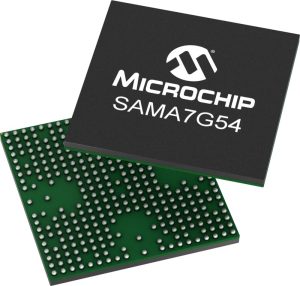 SAMA5D3 Xplained from Microchip Technology
The SAMA5D3 Xplained evaluation kit makes this list because it's a full-featured evaluation platform for the Atmel SAMA5D3 series of microcontrollers. This eval board is built around the Cortex-A5-based microcontroller with external memory, dual Ethernet, two SD/MMC interfaces, two host and one device USB ports, one 24-bit RGB LCD interface, a debug interface, and an Arduino R3 compatible header-set to enable various shield connections.
Of course, the real value of the SAMA5D3 Xplained board is the access it provides to the SAMA5D36 Cortex-A5 processor, the most capable of the five MCUs in the series. The Atmel SAMA5D3 series of processors is perfect for embedded applications requiring high performance, low power consumption, and high security.
The SAMA5D3 series boasts several integrated security features and meets the requirements of several automotive security standards, such as ISO 26262 and ASIL-B. These integrated security features include secure boot, cryptographic hardware acceleration, tamper detection, secure key storage, and more. This series is ideal for protecting critical automotive systems such as engine control units and driver assistance systems.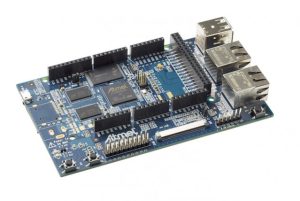 Author: