MECO VEHICLE BATTERY SYSTEM METER WITH PRINTER Model VBSM6246P for testing 12V and 24V Lead‐ acid Storage Battery during the process of Vehicle Start Up, Charging, and Electrical Loading. This meter is designed to be used with only 4 buttons on it which makes it easier to operate. It provides the result to the user on the large LCD screen with backlight, also hints by sound while testing and generate thermally printed report of battery State Of Health for future reference and records. This meter is provided with easy operation i.e. "▲▼"  button are used to change mode, test function and ENTER for selection and ESC to return.
FEATURES:
This meter has 4 test methods as follow: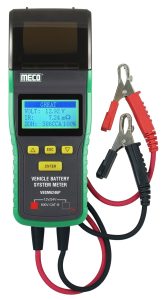 Function 1: Battery Status Test: (CCA, Internal Resistance, DC Voltage)
Function 2: Engine Activation Load Test
Function 3: Max. Load Test
Function 4: Charging System Test
Thermally Printed report of Battery State Of Health
Diagnose Battery Health as per CCA / IEC / EN / DIN standards
Featured with Loose Lead Detection, Reverse Polarity Protection and Over Load Protection for operator's safety with Safety standard CAT III 600V.
This meter is the best tool for Battery Sales, Vehicle Repair, and Condition Checks of all kinds of Lead‐acid Batteries.
For more details please feel free to contact
Mr. Prashant Thakkar (Marketing Manager – Battery & Solar Products)
Email Id: prashant.thakkar@mecoinst.com Mobile No.: 098672 66639
Courtesy: Meco Instruments