With cars becoming more connected, OEMs need telematics solutions that facilitate seamless communication within and outside the vehicle. The device should be cloud-enabled, connectable to servers for real-time computation and analysis, and offer an intuitive user interface that allows users to interact and control various operations.
The telematics gateway designed by iWave offers automakers a flexible and modular computing platform that allows data exchange between multiple electronic control units (ECUs) and servers. It provides a secured execution environment and prevents unauthorized access to the device while maintaining data integrity.
The telematics gateway is integrated with a wide range of interfaces to collect critical data from vehicles and provides users with actionable insights to improve efficiency.
Telematics Gateway features
Wireless communication


4G/LTE Cat 4/Cat M1 for fast M2M/IoT applications. Other options include Wi-Fi 802.11a/b/g/n/ac with optional support for 802.11ax, BLE 5.0, and Ultra-Wideband (UWB) wireless transceiver, enabling data transfer from vehicle to cloud.
Wired Interfaces


RS232, RS485, Automotive Ethernet, and Analog Inputs on the telematics gateway offer more reliable and much faster protocols to fuel technologies like ADAS, self-driving cars, vehicle-to-everything connectivity, and more.
i.MX 8 DXL CPU with 64-bit ARMv8 Architecture


Dynamic power scaling with ARM Cortex A35, ARM Cortex M4 processor, and an internal memory of 2GiB. Supports advanced fleet management, configurations, and remote management.
Uninterrupted High-Accuracy Vehicle Location


High-precision GNSS (Global Navigation Satellite System) Module – GPS/GLONASS/BeiDou/Galileo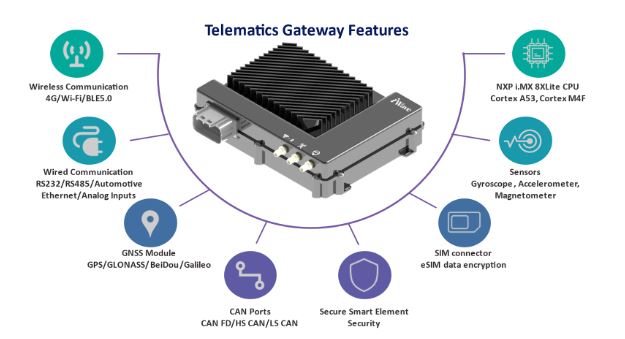 Real-time Vehicle Monitoring using CAN Interfaces


High-speed 5 CAN-FD transceivers that support up to 5Mbps data speeds. Protocol stacks like ISO 15765-4 CAN, SAE J1939, ISO 11898, CANopen, and CiA 447 are included. Suitable for heavy-duty trucks, off-road vehicles, emergency vehicles, and multiple vehicles & mobility infrastructures.
Smart Sensors for Continuous Monitoring


The system includes a 3-axis gyroscope, accelerometer, and magnetometer for real-time motion monitoring, driver behavior analysis, and auto-calibration.
SIM Connector


High-security eSIM data encryption, multiple IMSI, and multiple Profile UICC SIM technology remote file/applet management. 
Multi-dimensional Security Mechanism
Having Hardware Secure Element's (NCJ38A) strong protection on the telematics gateway restricts unauthorized installation of applications, and only trusted applications and devices can access the gateway.
Telematics Gateway: How to pick the right fit
When choosing a telematics gateway, various factors should be considered, such as the type and nature of clients, geographical conditions, the average distance to cover, and vehicle type.
Extensive connectivity options:

Reliable connectivity solutions are critical for connected mobility transformation. The telematics gateway should be able to scale up and down communication standards based on the connectivity infrastructure required for a vehicle. Depending on the end application, a telematics gateway should be able to support multiple wireless communication infrastructures such as Wi-Fi, BLE, LTE, DSRC, and so on.

Type of data you want to collect:

The ever-increasing number of vehicle makers, models, and options necessitate a telematics gateway with a modular architecture capable of supporting multiple interfaces such as CAN, Ethernet, J1939, RS232, RS485, and many others.

Software flexibility to manage diverse fleets & assets

: A scalable software on the device is a must for the simultaneous tracking of assets and vehicles. The software stacks supported on the gateway should ensure interoperability among different vehicles and mobility infrastructures and reduce the development time of customized applications. 
Value Addition from iWave
Global certification:


Telematics gateway is FCC / CE / ISED certified. iWave also supports country-specific certifications such as KOMINFO and E-Mark.

Shorten pre-programming cycle:


iWave provides easy-to-use APIs eliminating the struggle with complicated embedded scripting/proprietary device management tools.

Customization services:


Based on the requirement, iWave also provides customization options on hardware features, type of enclosure, and branding for the telematics gateway.

Add on security features:
To address security concerns, iWave offers a security suite that includes a Secure boot, Secure storage, and Wi-Fi Security.
Telematics Gateway Use Cases

Predictive Maintenance in Electric Vehicles
Drivers of electric vehicles must be aware of their battery health, the charge level, and the nearest charging station to plan the trip appropriately. Telematics gateways with various onboard features and wired & wireless interfaces can provide valuable data needed to improve the vehicle algorithm.
Control and Track Farm Equipment
Manufacturers of farm equipment strive to improve farmer operations by securely sharing information about their daily operations. Gateways installed in tractors, vehicles, and other farm equipment enable tracking of vehicle movement, location, driver status, gasoline usage, and more.
Efficient Fleet Management
The cost of failures in fleet management, such as vehicle recalls resulting in service interruption, can reach thousands of dollars. A telematics device reduces this risk with in-built interfaces like CAN, RS232, and RS485 to collect and securely share fleet information with owners. As a result, it enhances fleet productivity and reduces costly failures.
Heavy-duty and Off-road Vehicles
Forklifts, cranes, and heavy-duty trucks are often used in extreme conditions for long hours, making them vulnerable to frequent breakdowns. Integrated J1939 protocol support allows the telematics gateway to retrieve diagnostic information and real-time data from the vehicle ECUs, which ensures vehicle uptime and predictive maintenance.