A look at what is fuelling the fire in e-scooters.
E-mobility has been a burning topic for the last decade. The pressing need to combat the climate catastrophe has seen innovations heading towards the development of clean and green technology. Electric vehicles have taken over the global automotive sector and India, though not at par, is still catching up.
Two-wheeled e-scooters have been the most successful fleet of EVs in India. E-scooters had registered a staggering 132% growth in 2021. 2022 should have been better, but the string of recent cases of them catching fire, have turned the buyers away. This has slowed down the position of India in the global EV race.
The number of people who refused to buy e-scooters jumped eightfold to 17% in the last 6 months. People were already hesitant to make the switch due to the high upfront cost of EVs and the lack of charging infrastructure. These incidents have just added a big dent into the electric future of India.
In the past months, social media has been flooded with videos of e-scooters on fire, which has attracted the flak of government and people alike. Union Road Transport Minister Nitin Gadkari taking cognizance of the alarming situation asked EV makers to take "advance action" to recall all defective batches of their vehicles immediately. He said that government will announce 'quality-centric' guidelines for manufacturers of electric vehicles and failure to abide by them would lead to heavy penalties.
Following the government warning, Ola Electric has recalled more than 1400 scooters of a specific batch, whose one scooter burst into flames while being parked roadside. To follow a detailed diagnosis, all the scooters of that batch were recalled. Similar incidents have been reported by Okinawa e-scooter, which caught fire and took the life of a man and his 13-year-old daughter. More than 20 scooters by Jitendra EV caught fire while being transported from the factory in Nashik. Pure EV's e-scooter took the life of an 80-year-old man because of a battery explosion. Pure EV had initiated a recall of 2,000 electric scooters while Okinawa has announced it recalled more than 3,000 EVs to check them for potential safety issues. Other similar incidents have been reported throughout the country.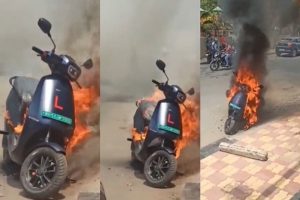 The initial findings of the investigation have prompted the government to consider testing battery cells of e-scooters before they are allowed to launch. Faulty battery cells and modules have been identified as the leading cause of electric scooters catching fire in India. The problem is even when empty, cells contain a small amount of charge and together many cells that make up a battery, still hold a lot of energy. India currently tests the battery packs but not the cells which are mainly imported from South Korea or China.
Full or empty, the risk of this energy escaping in an uncontrolled fashion is what leads to thermal runaway. When heat and gases fuel even higher temperatures and still more gases, including hydrogen and oxygen, in a self-fulfilling loop until the cells begin to burn and burst. A toxic vapor cloud develops, bringing with it the risk of deflagration. Once the thermal runaway has started, no battery management system or circuit breaker can stop it. While battery packs catch fire through overheating or while being charged, they can in rare instances spontaneously combust with contamination of even a single cell during its manufacturing being a possible explanation.
A global standard for safety measures is yet to be established. Common in all techniques is the use of immense quantities of water, essentially to cool the battery, or simply let the fire burn itself out. Using gas extinguishers to suffocate the flame does not work, as being a chemical blaze, it does not require oxygen. The area around must also be checked for battery cells that could have been propelled from the pack by an explosion and might spontaneously ignite later. Following containment, the burnt-out EV must be removed and deposited in a compound away from buildings and other vehicles.
These matters need to be taken seriously and proper research and testing should be undertaken before introducing the vehicle. Negligence is fatal and If this continues, its not long before the e-scooters will be taken off the road.