Cientra stands as a prominent leader in the realm of technology solutions. Consistently, they innovate and advance their proprietary technologies to cater to the intricate requirements of specialized sectors, particularly focusing on Semiconductors and Embedded Software. Their sharp attention extends to the Automotive and Telecom domains. In a recent conversation with Technology Journalist Himanshu Vaibhav of TimesEV, Mr Anil Kempanna, the CEO of Cientra Technologies, delved into the company's products and their applications in various industries. He also shed light on how Cientra addresses the potential challenges and intricacies linked to implementing the Non-3GPP Interworking Function across diverse network environments. Additionally, Anil Kempanna shared valuable insights into the groundbreaking technological solutions that their company has in store for the Automotive and Telecom sectors. Excerpt.

TimesEV: Provide an Overview of your Company's Profile
Mr Anil Kempanna: Cientra is a leading technology solutions company, consistently creating and advancing proprietary technologies to meet the intricate product development needs of niche segments, particularly within the domains of Semiconductors and Embedded Software, with a keen focus on Automotive and Telecom. Notably, Cientra takes immense pride in its groundbreaking achievement—the patented 5G IoT marvel named AADI—which stands poised for an imminent official launch. AADI symbolizes the embodiment of Cientra's innovation and its strategic positioning in the ever-evolving technological landscape.
The bedrock of Cientra's prowess lies in its profound technological acumen and intellectual reservoir, which have consistently propelled the creation of triumphant narratives of customer success and the steady expansion of the organizational footprint. Enclosed herewith is a concise overview of the foundational pillars of our company, in a JPEG image.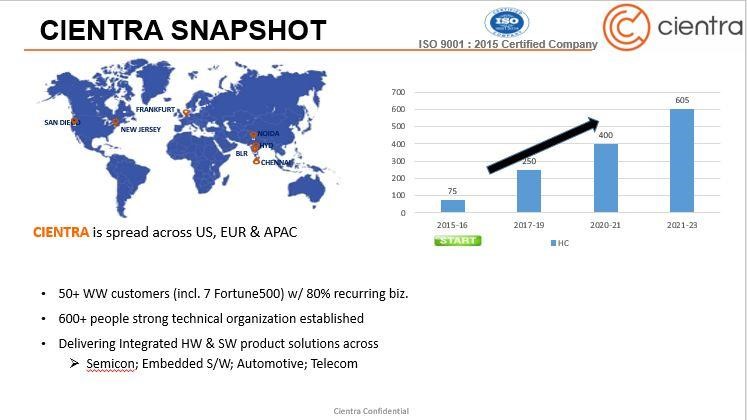 The company was founded back in 2015 and has since been able to execute holistic and immersive technology under the leadership of Anil Kempanna (CEO), Uday Joshi (CTO), and Sandeep Kadtane (SVP-Sales). 
TimesEV: Provide an overview of your company's product profile and application industries.
Mr Anil Kempanna: Cientra largely focuses on the creation of product solutions that are not just innovative, but mission-critical for our esteemed clientele. Our solutions encompass a suite of embedded Semiconductor IPs, developed proof-of-concepts engineered to untangle even the most intricate technical conundrums faced by our automotive partners. We have also developed a patented product solution to address the 5G-IoT. In addition, we take profound pride in our holistic approach, to provide consulting support along with our solutions to enable our customers to help achieve the Time-To-Market of their products.
TimesEV: How do Cientra's patented IPs contribute to the company's ability to provide innovative and customized technology-based solutions for your clients?
Mr Anil Kempanna: Innovation is at the heart of Cientra where we continue to invest and develop technology that identifies and addresses the problems that our customers are facing and therefore enables them with a successful solution. In the Semiconductors segment, we have built over 50+ digital IPs to enable small fabless customers to help design and develop their products with velocity and cost-effective advantages. In the embedded software segment, we have built multiple proofs-of-concept projects to address challenges, especially in the Automotive segment including EV, AUTOSAR, Powertrain, Infotainment etc. Further, Cientra has also developed a patented product solution called AADI to address the 5G-IoT deployment in the industry which currently is of great value. The product is at its final stage of review and approval by India's DOT (Dept. of Telecommunications).
Innovation is the pulsating core of Cientra, where our commitment finds expression in the continuous investment and development of cutting-edge technologies. Our driving ethos revolves around the challenges that surround our clientele and developing solutions that pave their path to success. Within the dynamic domain of Semiconductors, our repository boasts an impressive portfolio of 50+ thoroughly engineered digital IPs. This collection empowers fabless customers, equipping them with the tools to expedite the design and development of their products while harnessing the advantages of swiftness and cost-efficiency.
Venturing into the space of embedded software, we've chiselled a plethora of proofs-of-concept calibrated to confront challenges, particularly within the Automotive sector. These span the spectrum from Electric Vehicles (EVs) and AUTOSAR to Powertrain and Infotainment solutions. Our innovation journey culminates in the unveiling of our crowning achievement—AADI, a patented marvel tailored to seamlessly usher in the 5G-IoT era. This transformative offering, poised at the precipice of industry deployment, embodies remarkable value.
As we stand on the brink of unveiling AADI to the world, it's important to note that this groundbreaking product currently resides in its final stage of review and approval by India's Department of Telecommunications (DOT). This pivotal juncture heralds the impending realization of our vision to revolutionize the technological landscape and shape the trajectory of industry progress.
TimesEV: Please share insights into the revolutionary technological solutions you have in the pipeline for the Automotive and Telecom industries.
Mr Anil Kempanna:
Telecom:
With our innovative solution, we can connect the legacy non-5G IoT devices through a common 5G based platform to a 5G Network, which has no SIM cards and no 5G Radio. We transform the normal IoT into 5G capable IoT and then it can connect to 5GCore through the N1/N2/N3 interface. It gets enabled to use 3GPP NGAP and GTP interface to connect and interact with any 5GPP complied 5GCore. 5G Mobiles and non 5G IoTs both can get connected to the same 5GCore by the same standard, availing all the benefits of 5G mobile.
Challenges what it solves –
5G IoTs or upgradation to 5G becomes costly. 5G-Stack and SIM interface mechanism upgradation with 5G security in IoT is costly and challenging. IP connectivity is applied and 5G protocols. 5G allows multi-Access technologies, to be converged into the same 5GCore.
Automotive:
Currently Automotive Industry is undergoing a revolution in the areas
Software Defined Vehicles  Vehicles whose features and functions are primarily enabled through software. This means the ability to upgrade a car throughout its lifetime, through a centralized architecture, updating it and integrating new applications to enhance its functions. This revolution gives greater flexibility to the end user to pick and choose functions on the fly.
Zonal Computer ECU  The Zonal E/E Architecture concept is a technical evolution that is a robust solution to meet the new generation of driver demands through a high-speed communication network, the creation of multi-function ECUs, and vehicle software Service-Oriented Architecture.
TimesEV: Please explain how the scalability of the 5GIG solution is structured. How does it support the seamless integration of a large number of IoT devices into the 5G network?
Mr Anil Kempanna: The scalability is achieved by virtue of the 3GPP design. The core can connect a huge number of gNBs. Our Aggregator is equivalent to non-3GPP RU and DU of gNB. Aggregators like DU's can be engineered to be deployed in correct numbers to take up specific number and data rate connections. Number of gNB's can be increased to cater to an increased number of IoTs and aggregators. Number of gNBs can be increased to 256. Again if number of gNBs increase beyond a core can cater, number of 5GCores can be increased. In one cluster, number of 5GCores can be increased to 256. And again if number of clustered required is more than 256, then number of clusters can be increased. Within one cluster of 5GCores, it can handle 256*256*256, which is a huge number. And in each aggregator, the number of devices connected may depend on access technology and device types, and how much data they send. In case the numbers need to be increased beyond this, then instead of 8 bit identity, it may use 16 bit numbering and that's a huge number, so far not anticipated to reach.
TimesEV: How does your company address the potential challenges or complexities associated with implementing the Non-3GPP Interworking Function in diverse network environments?
Mr Anil Kempanna: At the heart of our solution lies a seamless integration strategy, drawing inspiration from the 3rd Generation Partnership Project's (3GPP) forward-thinking recommendations. Leveraging the N1 interface or the innovative N3IWF configuration devoid of Radio, our approach establishes a resilient link to the 5G Core. This transformation extends to the gNB infrastructure, ingeniously upgraded to embrace IP communication through a sophisticated multi-access mechanism, effectively shattering the constraints of 5G-NR exclusivity.
Our innovation cascades further, with the strategic detachment of both SIM and UE-Stack, transcending the conventional limitations imposed by fixed SIM slots within devices. This evolutionary leap not only enhances flexibility but eradicates the need for permanent SIM integration, redefining device design paradigms. The Aggregator, a central component of our architecture, boasts a sophisticated multi-technology-access framework, positioning itself as the nexus through which a myriad of IoT devices converge.
Anchored in adherence to the stringent 3GPP protocols, our product emerges as the vanguard in resolving the trifecta of 5G IoT challenges—interoperability, security, and scalability. As the contours of the IoT landscape continue to evolve, our solution remains steadfast, presenting a blueprint that harmonizes technological excellence with forward-looking adaptability.