It is heartening to see the electric revolution picking up pace in India. Government policies like the Faster Adoption and Manufacturing of (Hybrid &) Electric Vehicles in India (FAME) which provide subsidies for EV production and charging infrastructure are steps in the right direction. The number of EVs on the roads is increasing with more and more OEMs entering the EV mobility space.
With the current plan of battery manufacturers, the Li-ion battery market is expected to cross 6000GWh by the year. As the global demand for electric vehicles BEVs, PHEVs, and HEVs are leading to the surge of the Li-ion market as well. Both the industries are acting as parallel lines in the jolting sector of automotive.
The blooming statement of the automotive industry has to be "EV is the future of automotive". The surging consumer demand is proving it the right way. Amid the boom in the EV industry, one thing that is an eye-catcher for EV manufacturers and the others involved in the EV revolution has to be the Lithium-ion batteries.
Considering present surge in the EV revolution, TimesEV Sub Editor Sheeba Chauhan consider this time and circumstances absolute apt to interact with Kapil Sood, Managing Director, Fusion Power Systems to have a delineate conversation into the industry insight of "Top EV Battery (Li-ion) Manufacturers in India ".
Excerpt:
TimesEV: What is the latest technology used for manufacturing Li-ion batteries?Kapil Sood: As a company, Amptek Batteries has always fostered a culture of innovation and creativity to ensure that are products remain up to date and in line with what our customers need.
For its Lithium range of batteries, the company has three manufacturing plants in Gurugram and Manesar, which are fully equipped & integrated battery pack production facilities in India with an ultra-modern assembly line. It has a State-of-the-Art R&D and Quality testing facility that has helped it achieve the highest levels of customer satisfaction.
At the heart of Amptek Lithium batteries is an intelligent Battery Management System (BMS) that monitors and reacts to multiple voltages, currents, and temperatures to maximize battery life, performance, and safety. From its superior cell and battery design to its intelligent, built-in diagnostics, Amptek offers a range of advanced safety, environmental, and electronic features. To enable electric mobility with the availability of economically and technologically robust batteries, Amptek uses Lithium Iron Phosphate (LFP) and Lithium Nickel Manganese Cobalt Oxide (NMC) chemistries, among the most prominent technologies for applications like Electric mobility.
TimesEV: What is your date of inception, the day you put your first foot forward into the manufacturing business of Li-ion?
Kapil Sood: Amptek Batteries commenced operations in the manufacturing business of Li-ion Batteries in the year 2018.
TimesEV: How many employees are presently working with your company?
Kapil Sood: Number of Employees: 180-200

TimesEV: ELE times would like to know about the company's sales network and   What is the revenue of your company for last financial year?
Kapil Sood: Headquartered in Gurugram, Haryana, Fusion Power Systems has branch offices in Chennai, Hyderabad, Ahmedabad & Kolkata.
The company maintains a very strong Pan-India presence through its customers, and network of Distributors & Dealers in over 23 states. The company has a very well-established and dedicated sales channel that is present in all metropolitan cities and various other parts of the country.
Apart from maintaining a strong national presence through our solid client portfolio and Sales channel, the company believes that customer engagement through advertising is also at the heart of any successful business. We believe in maintaining our strong market presence through participation in various events and exhibitions, advertising and Brand promotion, Social Media Marketing, etc.
TimesEV: Apart from portable electronics like cell phones or laptops, what could be the latest use of Li-ion batteries?
Kapil Sood: Taking into account the current boom in the Electric Mobility and Solar sector, we believe, there is a huge potential market for Lithium-ion battery Technology for electric vehicles (EVs) and energy storage applications in India. Therefore, our company had entered into the EV segment at a very early stage and at a time where EV industry in the Indian market was still dominated by SMF Batteries.
Although the electric vehicle (EV) market is still in its infancy in India, it is definitely expected to be more important going forward, as the government has undertaken various initiatives to promote electric vehicles in the country. The country has an ambitious target of becoming an all-EV nation by 2030.
TimesEV: Will there be any alternative that can replace Li-ion batteries in the future?
Kapil Sood: Significant research is being done on battery cell chemistries that could power future electric vehicles. Last July, CATL revealed the first generation of its sodium-ion batteries for use across EVs and stationary storage, targeting a launch in 2023. Sodium-ion batteries currently have a relatively lower energy density, they run better at cooler temperatures and have a greater life span, making them a better long-term investment, in theory. So, while micro-improvements in Li-ion cell chemistry are being made each year, Sodium-ion batteries has the runway to make meaningful improvements in density and cycle rate year-on-year for several years still.
Nevertheless, it is not an either-or situation. For different applications, different technologies will be most appropriate. The big message from recent developments is that there are now real alternatives to Li-ion, which makes the battery industry an incredibly dynamic and interesting space to be in.
TimesEV: What is your product profile?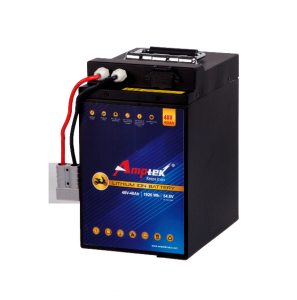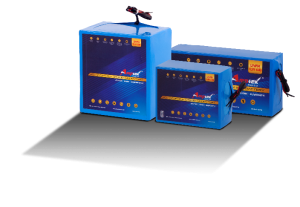 Kapil Sood: Amptek offers multi-technology Lithium-ion battery solutions for specific consumer application needs, ranging from high energy density or high cycle stability and fast charging, or a combination of both. It is the first Indian brand to have launched Li-ion batteries for electric scooters and bicycles. We offer Li-ion batteries for the following applications:
Electric Scooters
Electric Bicycle
Solar Lighting
Telecom
TimesEV: What are your future plans?
Kapil Sood: The battery market in India is experiencing growing demand from multiple sectors. The growth of the battery market is also driven by the increasing demand from sectors like Electric mobility. Besides, the boom in the solar sector has added extra impetus to this industry. With all these factors combined, the Indian battery market is expected to remain bullish in the coming years. Keeping all this in mind, In the near future, we aim to scale up the type and level of products and services we offer so as to cater to an even larger group of Electric Vehicle applications in the Indian market.
The goal is to translate new, innovative ideas into high-quality products and services. Our emphasis is on an expanded concept of innovation and technology that helps India move towards Electric Mobility.