Explore the Latest Automotive Technologies and Solutions from Spark Innovations exclusively at Auto EV India 2022 from 9th to 11th November 2022 at KTPO Bengaluru.
Batteries are of utmost importance in an electric vehicle and hence need a properly regulated system that manages their overall health. The Spark Innovations' BMS has open wire fault detection, short-circuit detection, over and under voltage fault detection, over and under temperature during discharge as well as over and under temperature during charge fault detection. Compatible with NMC/LFP cells, and the current ranges from 5-60 A.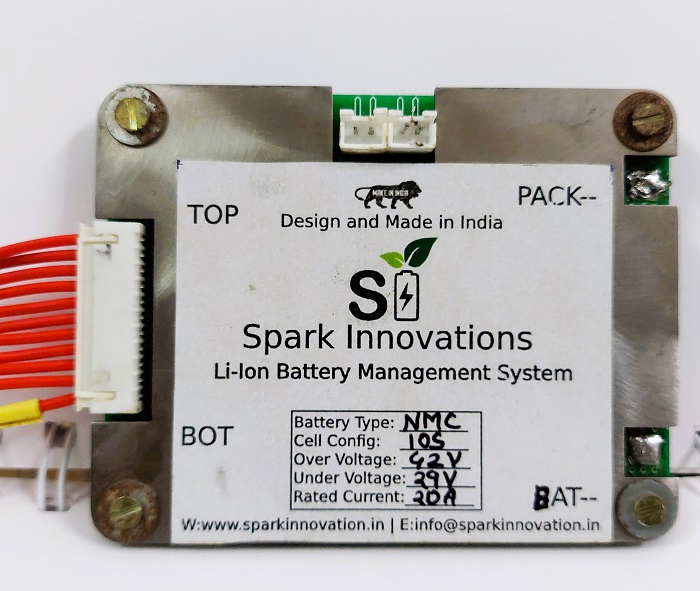 Spark Motor Controllers have UART communication interface and fault indicator LEDs. The features include– trapezoidal/vector FOC speed control algorithms along with over and under voltage and temperature protection, forward/reverse rotation and protection from over current and short circuit. It comes with a fault indicator LED and UART communication interface.
The areas of application include-
power tools
garden tools batteries
robotic cleaners
vacuum cleaners and hover boards
e-bikes
drone motors
textile spinning
diamond industries
solar batteries
medical instruments storage battery among others.
Products like smart BMS with CAN interface, smart BMS with Bluetooth interface, smart motor controller with CAN interface are under development.
Spark Innovations was founded by Ritul Shah in 2020 with the aim of making India ATMANIRBHAR in energy storage and e-mobility. The company has an in-house R&D team for designing and developing electric powertrain components like battery management system and BLDC/PMSM motor controller.