Explore the Latest Automotive Technologies and Solutions from Metravi Instruments Pvt. Ltd. exclusively at Auto EV India 2022 from 9th to 11th November 2022 at KTPO Bengaluru.
Moisture is a natural occurrence in various materials and substances. Various issues can be faced if the moisture content is left unchecked or not monitored in substances or materials used to make something.
From wooden flooring or furniture damage to inventory loss or even affecting the safety of buildings and other contractions, moisture content can create havoc.
Moisture Meters thus prove to be invaluable tools for any woodwork professional, carpenter, architect, interior designer, or even a DIY hobbyist. Accurate, and high-precision ones assist in checking and monitoring such materials for suitable moisture content levels. Using the right tool for the job is as important as knowing and understanding the repercussions, including monetary losses, that unchecked moisture content could lead to.
What is the difference between a pin and a pinless moisture meter?
Both pin-type and pin-less meters are available.
PIN TYPE MOISTURE METERS
Pin-type moisture meters have pin probes that need to be properly inserted into the wood or material. These use electrical resistance to measure moisture content by measuring the conductivity between the pins. An electric current is passed between the two pins, which measures the moisture content percentage. The meter displays the respective reading on the LCD.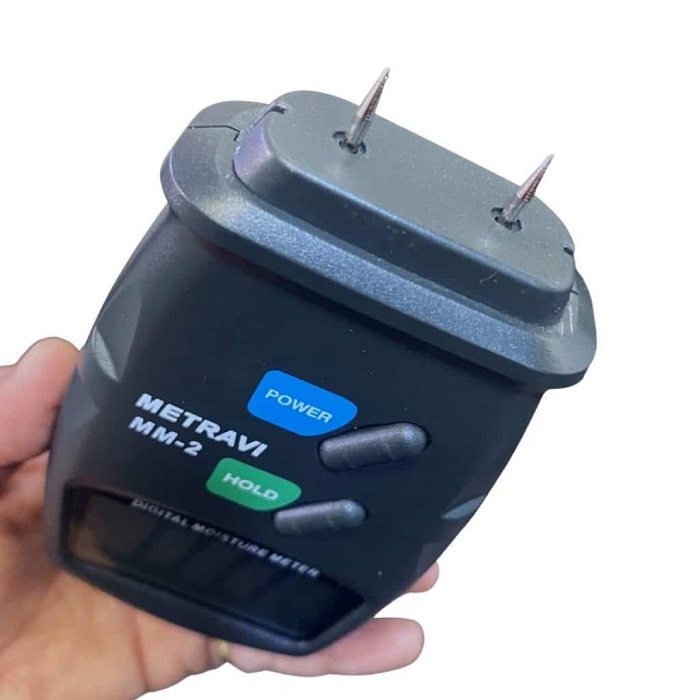 The pin tips are relatively sharp and uninsulated and have to penetrate into the surface of the material being tested for sub-surface readings. This is an invasive process, though one can also obtain readings by touching the pins to the surface for testing.
Most pin-type moisture meters are calibrated for wood; however, they can be used to measure moisture in other substrates and materials. Usually, they can also be used for concrete, drywall, ceiling tiles, painted surfaces, and more.
Pin-type moisture meters provide the best way to identify the exact location of moisture buildup. They can even be used to provide accurate readings of moisture content at various levels of penetration. Pin-type meters are the only instruments that assist in the identification of the exact location of moisture at a given point. Using a pin-type meter is also an effective way to determine the difference between shell and core moisture contents.
PINLESS MOISTURE METERS
Pinless Moisture Meters are easier to use as they don't need penetration into the material to be checked. Instead of pin sensors, a Pinless Moisture Meter has a non-invasive sensor. It works on the high-frequency method to measure dampness or moisture in a material. The sensor has to be simply pressed down on the material, be it wood or concrete or ceramic, etc. This type of meter provides a non-destructive measurement of moisture content in wood and other substrates, such as concrete and gypsum.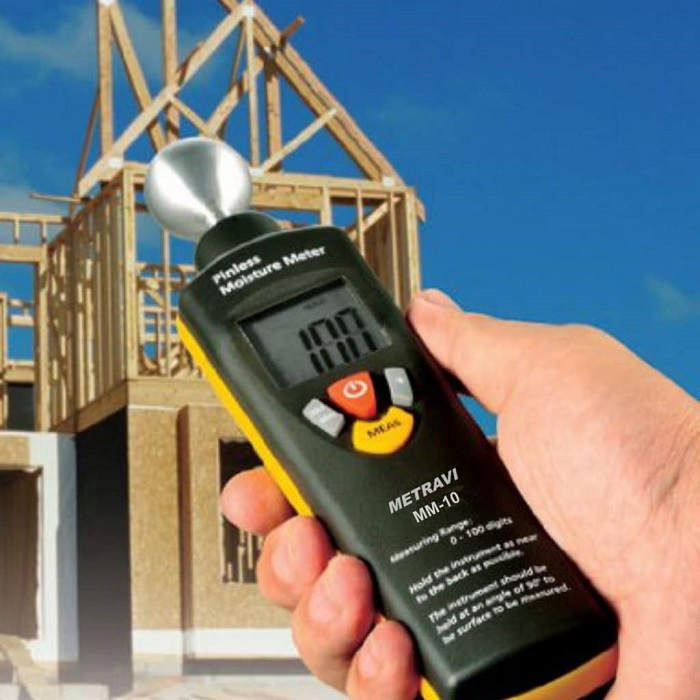 The biggest advantage pinless moisture meters have over pin-type ones is that they are non-invasive and non-destructive. Wood or concrete or bricks, etc., will not have to be penetrated and there won't be any holes or marks.
Either way though, to test a full batch of any material for moisture content, multiple measurements are required to get a comprehensive status.
They can read up to a typical depth of ¾ inch or 1 inch into a subsurface. They are useful for detecting problem moisture build-up where visual indicators are not evident. Although pinless moisture meters are non-invasive, their readings show moisture content in a general area rather than a specific spot.
Pinless moisture meters are popularly used to check moisture content in concrete flooring before laying wooden flooring or other decorative flooring surfaces. They are also used for identifying possible moisture build-up behind bathroom/shower tiles, under vinyl flooring, and other finished surfaces.
How to choose a Moisture Meter?
The following specifications should be kept in mind with respect to your application when you are deciding on a Moisture Meter. It's always good to know the important considerations before you settle on a particular model of any instrument for your purposes.
ACCURACY
Accuracy is the most important consideration for any testing instrument. A model which lacks accuracy is useless. Preferably accuracy should be within 0.1% so that your readings can guide you correctly. It in not advisable to invest in a device that has a variance of more than 4-5%.
DURABILITY
Any Moisture Meter will be used frequently, given the nature of the applications. The pin probes should be of good quality. They should be able to bear the constant pricking and penetration into various substrates and materials. Rubberised housings, heavy-duty finish and shock and drop proofing are features to look for in dependable meters. If the device can survive few falls and constant usage, with proper use, it will provide years of reliable measurements.
EASE OF USE
Moisture Meters should be relatively easy to use. Complicated usage uses up a lot of time. A simplistic design with easy button functions helps to take accurate readings. Along with the availability of an easy-to-read, backlit display, the user should be able to easily navigate the menu and choose the provided options easily.
Of course, pinless meters are easier to use than pin-type meters, but only with the latter do you get pin-point accuracy.
RANGE OF MEASUREMENT
The maximum and minimum readings possibly make up the range of the instrument. Ensure the meter has the range that you will need your readings for. Given ranges are usually smaller and more precise for substrates like flooring, concrete and other building materials. A broader range though would help with use across various materials.
ADDITIONAL FEATURES
Nowadays, Moisture Meters come with additional features which add to make the measuring task easier, help prolong battery life, as well as consequent accuracy of readings.
Auto Power-off and Low Battery Indication help save the battery. Also, a low battery affects the accuracy, so once the indicator is on, it is advisable to replace it with fresh batteries so that accuracy is not affected.
Data Hold and record functions are useful features as they help keep track of previous readings instead of having to write them down or remember them.
Data Hold and record functions are useful features as these help keep track of previous readings instead of having to write them down or remember them.
Metravi offers a range of Moisture Meters with various functions and features:
Metravi MM-1 Moisture Meter
Digital Moisture Meter for paper, wood, and hardened material like plaster, concrete, and mortar with low battery indication and impact-proof plastic housing.
Range : Wood, Paper : 6 – 44% and Hardened Material : 0.2 to 2.0%
Metravi MM-2 Moisture Meter
Digital Moisture Meter for wood, bamboo, cotton, tobacco, paper and foodstuffs, featuring Data Hold facility and low battery indication.
Range : 5% to 40%.
Metravi MM-5 Moisture Meter
Digital Wood Moisture Meter that can measure moisture in up to 150 different kinds of wood. Specially Designed for the Timber Market, it has eight calibrating scales, a temperature compensating feature and is capable of accurate measurement in 150 wood species. Can be used with integral pin electrodes or the heavy duty moisture probe. Range: 6% to 100%.
Metravi MM-10 Pinless Moisture Meter
Digital Pinless Moisture Meter featuring auto power off, backlit display, Min/Max function, Data Hold and works on most of the products. Ideal for measuring moisture content in wood, gypsum and cement-based materials. Range 0-100%.
Metravi ET-99M Moisture Meter
A professional, conductivity moisture tester designed to measure moisture content in wood, sawn timber, cardboard, paper, as well as hardened materials like plastic, concrete and mortar, using pin probe sensors. Features Data Hold, Auto Power-Off, Low battery indication.
WOOD MODE Range: 6 to 99%. BUILD MODE Range: 0.2 to 2%.
Courtesy: Metravi