India is gradually driving down the e-mobility road. In July, the total electric two-wheeler registrations in the country registered a month-on-month (MoM) growth for the second consecutive month. According to the government portal Vahan, the registrations of electric two-wheelers stood at 44,428 units in July, up 5% from 42,302 units in June.
Hero Electric led the table with the maximum registrations. Hero Electric's vehicle registrations in July were the highest since March this year at 8,952 units, up over 37% from 6,504 units registered in June.
Okinawa Autotech fell one spot to the second position, followed by Ampere Vehicles and TVS Motor in July. Ola Electric was in the fifth position in total electric two-wheeler registrations, registering another decline on an MoM basis.
Ola Electric's e-scooter registrations stood at 3,852 units in July, down 34% from June and a 58% drop from May. In June and May, Bhavish Aggarwal-led Ola Electric's vehicle registration numbers stood at 5,891 and 9,258 units, respectively. The demand for the electric mobility startup's e-scooters declined to the levels last seen in February this year.
Deemed as one of the most trusted and premium brands in the two-wheeler EV segment, Ather Energy saw over a 66% decline in its vehicle registration to 1,279 units in July. This marked a reversal of the pattern seen over the last few months when the startup reported an MoM increase in its monthly registrations. Ather Energy's total vehicle registrations stood at 3,829 units in June as against 3,338 units in May.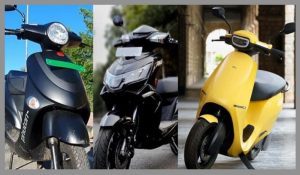 On the other hand, Okinawa Autotech, which held the top spot in June with 6,980 units, saw 8,094 registrations of its electric two-wheelers in July. The company was able to reverse the declining trend of the past two months, posting a 16% MoM increase in registrations in July.
While the registrations of companies whose vehicles were involved in fire incidents saw a decline in June, the pattern saw a reversal in July with many of those players seeing an MoM increase in registrations.
Since the beginning of 2022, several e-scooter manufacturers including Ola Electric, Okinawa, Jitendra EV, Pure EV, and Boom Motors have come in a negative light after multiple cases of fire incidents. While Ola Electric witnessed another decline last month, Okinawa did better and Jitendra EV's total vehicle registration also rose to 846 units in July from 548 in June.
Boom Motors also saw 224 units of vehicles registered in July, which stood at zero over the last four months.
Besides, electric motorcycle manufacturer Revolt also saw a 4% MoM decline in registrations to 2,317 units. However, TVS Motor saw a 118% MoM jump in its electric two-wheeler registrations to 4,244 units last month from 1,946 units in June. The legacy two-wheeler maker's July performance once again surpassed that of Bajaj Auto.  Bajaj Auto's EV registration stood at 2,418 units in July as against 1,798 in June and 1,725 in May, as per Vahan data.
At a time when India is aggressively working towards boosting EV adoption to reach its net-zero goals, the number of EV players across segments is on a rise, particularly incentivized by the Central and state governments.
The sales of EVs across segments have been increasing for the past few months. As of August 1, 77,408 units of EVs were registered in July as against 72,520 units in June and 65,885 units in May.