Explore the Latest Automotive Technologies and Solutions from Lubi EV exclusively at Auto EV India 2022 from 9th to 11th November 2022 at KTPO Bengaluru.
Lubi offers best-in-class AC Chargers with a superior tried-and-tested product for the fast-growing EV Market. These chargers come with top-of-the-line efficiency standards enabling low power costs for customers. A wide voltage band of 100V to 750V DC in a Combined Charging System (CCS), means all variants of electrical automobiles can be charged including high battery capacity public transport vehicles. Our dedicated service and support team is on call to address any field issues. Our superior Central Management Software (CMS) allows customers to monitor, operate, and track charger utilization and payments with a click of a button.
Features
• Suitable for all types of batteries Li-ion, Lead Acid, LifePo4
• Short-circuit protection,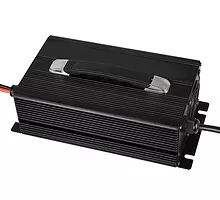 • Overload protection
• Reverse polarity protection
• 2-stage charging mode: CC(constant current), CV(constant voltage) and trickle or float stage.
• Reliable, elegant, small in size and light weight.
• Charging state- Two LED display.
• All kinds of production has passed the CE certification.
• Efficiency: ≥94 %( full capacity)
Applications 
Electric Two Wheeler

Electric Three Wheeler

Battery operated Cart van

Electric Fork-lift

Electric Vacuum Cleaner/Sweeping machine
Courtesy: Lubi EV