Smart manufacturing is to improve manufacturing performance aspects through Digital Transformation. Yokogawa is determined to co-create new value for solving customers' problems while cultivating a long-term partnership to achieve customers' smart manufacturing goals. Yokogawa provides end-to-end solutions covering the entire value chain from feedstock sourcing to product delivery, as well as the asset lifecycle of facilities and processes from planning, design, construction, commissioning, and startup to production/manufacturing and maintenance. By integrating best-in-class domain knowledge with more than 100 years of industry expertise and production automation solutions, Yokogawa has a proven track record of optimizing the asset lifecycle, production, and complete supply chain. Yokogawa categorizes smart manufacturing into five areas as mentioned in the figure below.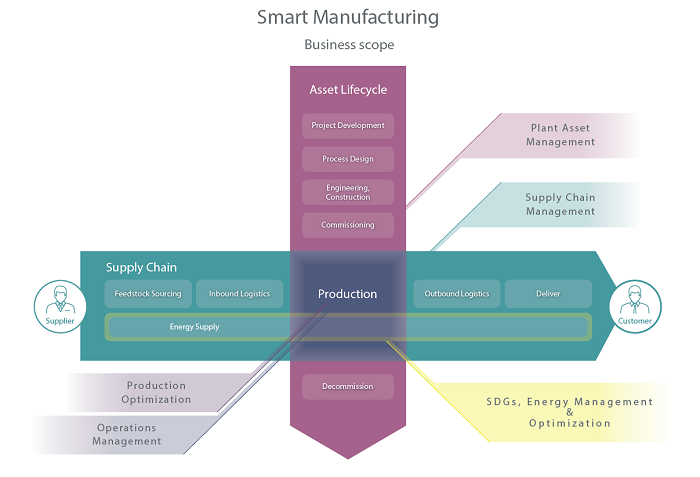 Operations Management
Yokogawa's operations management is a comprehensive suite of customer-centric solutions that were developed based on longstanding experience and knowledge obtained through tens of thousands of automation projects. It is applicable in a phased manner to all manufacturing plants at various maturity levels.
Production Optimization
Yokogawa has helped increase profit improvement via energy savings and operational efficiency improvements, which were achieved via visualization and stabilization per unit. Combining the best practice with the latest digital technology enables the optimization of the entire plant and lifecycle, increasing productivity even further.
Supply Chain Management
Precision management is Yokogawa's approach to supply chain management, from feedstocks and material movements to product delivery. Precision management starts with precision measurements, combined with the real-time management of materials' movements and full digitization, from sales orders to invoice processes.
Plant Asset Management
Being the industry's trusted partner, Yokogawa has worked with customers in breaking down problems and opportunities into small steps to derive tangible value from their assets and asset management program. Starting with an understanding of the customer's goals and acceptable risks in view of their desired asset performance, we believe in investing only when and where it is needed most.
SDGs Energy Management and Optimization
Energy conservation and gas emission reduction are key initiatives in realizing a sustainable society, but they are not enough. Data that are continuously collected by a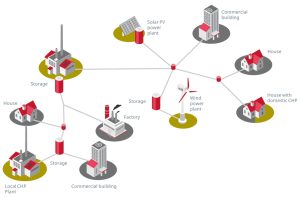 wide variety of sensors are utilized for future forecasts regarding the total amount of renewable energy provided by nature and the absorption of greenhouse gas, as well as energy demand and gas emissions due to social activities. In addition, simulation and planning are implemented to determine what is best for the entire time period at the community level, for example, simulating impacts by leveling or shifting production operations, as well as building the operation planning of social infrastructure to save and share energy. These activities will enable not only community-wide net-zero emissions but also a society in which the process of energy production, storage, and use is optimized, allowing anybody access to energy in an easy way and at a reasonable price.
Courtesy: Yokogawa