ST Partner Program: It's about visibility
Finding members by their activity
People looking for a member have multiple avenues. The most common one is to go to our dedicated category page on ST.com. We've grouped the ST Authorized Partners products and services into 11 categories such as:
Software Development Tools
Hardware Development Tools
Embedded Software
Evaluation Boards
Development Boards
Companion Devices
Hardware Integrated Devices
Training
Engineering Services
Design Services
Global Services
Users drill down the various products or services within a category to see how the ST Partner Program can help teams. Members in the Program are audited every two years to ensure they still bring value to the ecosystem. As a result, users get offers and services relevant to their needs. Trusting the wrong people can have devastating consequences for a product, design, or firm, and hiring the right experts can sometimes feel like a gamble. The initiative removes uncomfortable uncertainties by vetting adherents regularly.
Finding the right product or service
The other way users can search for members is through an ST product page. Classically, customers use our website to find information or deliverables on our products. For instance, users interested in the STM32WL ecosystem, the first general-purpose MCU with a sub-GHz radio, could select the "Tools and Software" tab at the top of the page. They would then see all the Partner Products and Services around the microcontroller. In this case, the section contains references to development boards, GUI development experts, global cloud connectivity services, AI experts, security professionals, and more. In all instances, visitors get a link within ST.com pointing to the collaborator's offering.
Searching the program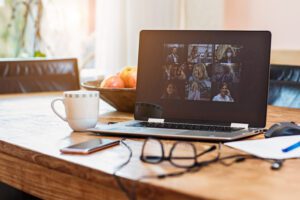 If users only want to know whether a company is a member of the ST Partner Program, they can run a simple search. It is possible to filter the results by category and region or search by keywords. The feature has been available from day one and provides significant visibility to each member on our official website. Similarly, collaborators also showcase the ST Authorized Partner icon at events or online to alert prospective clients. Moreover, members often work with ST on webinars or trade show demos. Hence, for many, being a member is far more than having a name in a registry. It's a way to conduct business in a crowded industry.
ST Partner Program: it's about trust
A walled garden
The ST Partner Program is about creating new levels of visibility for the members and new ways to find trustworthy solutions for users of the ST ecosystem. The initiative is free, meaning that a company can't buy their way into the Program, thus leveling the playing field between large organizations and smaller startups. Moreover, the fact that ST hosts Members' pages on its site means users know they are reaching the right people. Too often, a bad Google search can lead people astray. Centralizing Members on ST.com solves that. Categories and product pages also ensure that users find the relevant companies for their specific needs.
A shining program on a hill
We also work to highlight all sorts of ST Authorized Partners on the ST Blog to provide the same exposure to all members. Here are a few links to help newcomers understand the program's value, what they can expect from members, and how we promote them. Whether they offer technological breakthroughs or hold the key to releasing a product to market faster, the members show how they make the ST community greater than the sum of its parts. We will, therefore, continuously update this blog post with more success stories.
Percepio DevAlert and STM32: A Sandbox and Tools to Crush Frustrating Bugs and Malicious Attacks
Percepio offers software solutions to diagnose and debug STM32 applications remotely. Thanks to DevAlert, developers can find and solve issues early and even detect some security attacks. The company even released a Sandbox to help teams test its solution and experiment with critical features.
embeNET and STM32WL: 6TiSCH Based Mesh Network Overcomes Big Challenges Plaguing the Internet of Things
6TiSCH is a brand new IP-based protocol to connect IoT devices. It solves the energy efficiency and interference issues when setting up large mesh networks. embeNET provides the ST community with a network stack that vastly facilitates a 6TiSCH implementation.
Qt Supports Devs Passionate About UI and Performance Around STM32 MCUs and MPUs
Graphical user interfaces are increasingly important and complex on embedded systems. A partner like Qt can help build a framework that companies can scale onto a wide range of STM32 MCUs and MPUs. The company also provides tools to make designs modern and responsive while optimizing performances.
Candera, DH electronics, and STM32MP1 Webinar: The Powerful Ways of Rapid and Modern Prototyping
This blog post is unique because it features two members of the ST Partner Program coming together around the STM32MP1. Candera and DH electronics held a webinar to teach about rapid prototyping and show how companies could vastly reduce their time to market. DH electronics provides SoMs while Candera works on UIs. Together, they've created a unique partnership to streamline developments on ST's MPU.
What's Next?
Those wishing to join the ST Partner Program can submit a request online. Candidates must be part of a commercial company with no fewer than 20 employees and receive the backing of an ST sponsor, such as a regional representative. We also ask that applicants work with ST for at least a year so we can guarantee the added value of the services or products provided. Since the initiative's launch in 2017, we've streamlined the application process. We can thus welcome members quicker while still ensuring the creation of a relevant and meaningful network.