We would say the ingredients are in place for India to become the biggest hub for electric vehicles.
There has been a tangible amount of swell regarding the anticipation of the future in the Indian automotive sector, significantly in the electric vehicle market.
The EU and G7 countries have agreed that the future demands a stricter climate policy and have pledged to have co2 emissions by 2050. In this timeframe, the number of private cars worldwide will more than double to 2.5 billion, so demand for energy continues to rise while fossil fuels dwindle. The world cannot simply continue as before. The UK, France, Norway and Germany have even brought in legislation to ban the sales of non-electric vehicles as early as 2025. This makes the EV industry one of the most exciting, significant and necessary areas of innovation today.
India has already shown its keen interest to be a major part of this automotive paradigm shift. ELE Times and Times EV Sub Editor and correspondent Mayank Vashisht spoke with Mr Bhavneesh Athikary, Automotive Lead Indo-Pacific, Hexagon, to dig deep into India's anticipation of becoming the EV hub for the world and the roadblocks hindering that desire.
Excerpts of this Exclusive Conversation: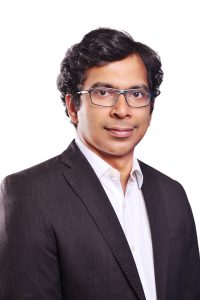 Times EV:  India has already put forward the desire to become the biggest hub for electric vehicles in the future. How far is this desire from reality?
Innovations in the EV space have taken place and will continue to occur, and we expect that the policy environment in India will become even more favourable. Over the years, we've seen many initiatives from the Government, such as the National Electric Mobility Mission Plan 2020 (NEMMP), which was launched in 2013 by the Department of Heavy Industry (DHI) as a roadmap for the faster manufacture and adoption of EVs in India.
Talking about India, from the Ministry of Power to the Ministry of Road Transport and Highways, many government stakeholders have made policy changes. The Ministry of Power, for example, has clarified that charging EVs is considered a service, which means that operating EV charging stations will not require a license. It has also issued a policy on charging infrastructure to enable faster adoption of EVs. Meanwhile, the Ministry of Road Transport and Highways have announced that both commercials and private battery-operated vehicles will be issued green license plates. It has also notified that all battery-operated, ethanol-powered, and methanol-powered transport vehicles will be exempted from the commercial permit requirement.
There is undoubtedly significant potential. Earlier this 2021, it is reported that Tesla would be setting up an electric-car manufacturing unit in the southern Indian state of Karnataka. A now-deleted tweet by State Chief Minister BS. Yediyurappa said that Tesla would start its operations in India with an R&D unit in Bengaluru. While that has yet to be confirmed, Tesla CEO Elon Musk has tweeted several times about the company's foray into India.
We would say the ingredients are in place for India to become the biggest hub for electric vehicles.
Times EV: The charging infrastructure for eMobility is a significant concern. There are only 1000 charging stations for electric vehicles in India, where the population of cars on the road is sky-rocketing. The proportions are unrealistic, and the apprehensions in the consumer's mind are justified. What are your thoughts on this classic problem, and how the Government can reduce this disparity and improve the infrastructure?
Charging infrastructure disparity is a justified and enormous concern for EVs across several countries. Range anxiety is still one of the critical challenges and availability of charging stations. When we speak of EVs, we're not just talking about passenger vehicles; we are talking about two-wheelers, three-wheelers like auto-rickshaws, as well as commercial vehicles.
Yet when faced with these challenges, we need to look for unconventional approaches; we look towards alternate methods like battery swapping or more mobile charging, such as charging stations at home– these are things India needs and can fully embrace. To leapfrog technology to explore beyond the conventional charging infrastructure is the key here.
On a positive note, too, we must not forget that technology is constantly evolving and very rapidly too. So the challenge right now might not be a challenge for long; fast charging technology is also changing. Various public-private partnerships are also being tried out and discussed; I am sure we will surpass this challenge.
Of course, we cannot talk of EVs without considering that the move towards renewable energy is another crucial puzzle piece. The good news is, as you can see from India's policy point of view, there's a lot of push for this, especially solar energy.
Times EV:  There is complete unavailability of primary battery cell manufacturing in India, which puts India at the risk of increasing our trade deficit. Most manufacturers rely on batteries imported from Japan, China, Korea, and Europe. How can this dependency be reduced, and India can become self-reliant?
To be sure, there are challenges in obtaining the natural resources required to make lithium-ion batteries, such as cobalt and lithium. India is not home to such materials, so most of them have to be imported. As such, sound policies for robust collaboration with the nations that produce these materials are crucial.
I believe India is likely to become a leading hub for manufacturing EVs and EV components; for many reasons.
One of them is that the Government has rolled out a Production-Linked Incentive Scheme (PLI) for ACC Battery Storage Manufacturing. The PLI scheme will go a long way to spur the domestic production of batteries. Thus, it reduces our dependence on imports because it aims to support the growing EV industry with the required infrastructure and significantly reduce EVs cost. Many leading battery producers like Amara Raja Batteries have publicly mentioned their new investments in green technologies, including lithium-ion batteries.
India has, I believe, great scope for the production of electric vehicle batteries locally because it has access to all the technology and other raw materials– except for lithium or cobalt.
Times EV:  Apart from the infrastructure deficiency for e-mobility in India, there is another point of concern: their price compared to the cost of combustion engine vehicles. This disparity creates a lot of apprehension in consumers' minds before going for an electric car. How will automakers solve this problem?
Cost is a barrier to many consumers, but it is a myth that ICE vehicles are cheaper than EVs. The initial cost to own an EV, without a doubt, is much higher compared to ICE vehicles. However, there is much to be done to bring this cost down. Such policies like tax breaks for purchasing an EV help. In addition to continuous innovation and technological improvements in the manufacturing and production of EV and EV components to reduce the vehicle's cost overall.
But in the long run, the cost of an EV is far lower than an ICE vehicle. Deloitte, in their report, finds that EVs' driving range is already comparable to that of ICE vehicles and price has already reached parity– taking into consideration the subsidies in various markets and total cost of ownership, and the number of models available is increasing.
The issue with EVs is that the cost savings are not immediately apparent, but as more EVs find their way onto our roads, personal recommendations and experiences will soon overcome the concerns. Friends and families and the expected rise of commercial EVs, especially in India, will reassure consumers to make the switch.
The good news is: according to Bloomberg New Energy Finance, global battery-making capacity is set to double by 2021 to more than 278 gigawatt-hours per year. Lithium-ion batteries are also expected to be 43% cheaper by that same year, so all this will continue to bring the initial cost of ownership down.
Times EV:  What are the repercussions of the pandemic on the EV sector?
It was negatively impacted in the short term, especially regarding supply chain disruption that happened because of the pandemic. But I think, contrary to concerns, COVID-19 Pandemic has been a catalyst for electric vehicle adoption instead.
For example, in the last-mile delivery sector, the pandemic has led to a massive increase in e-commerce. To give an example, many players in the last-mile delivery sector have moved to electric vehicles. In India, EVs are not only passenger vehicles but other commercial or logistical vehicles. This is rapidly growing, and I wouldn't be surprised to see India is at the top of the EV sector.
At Hexagon, despite the pandemic challenges, we have continued with our mandate to drive the growth of eMobility with our unique capabilities. We understand that we can improve global human impact for business and society, and our goal is to help the industry rise to meet the eMobility revolution.
We focus on combining our extensive knowledge from across our portfolio to do our part to unblock the barriers to EVs. We offer the industry an integrated approach to improve, speed up, and simplify the development of electric vehicles, hybrid transition technologies, and clean automotive energy models.
Hexagon offers an intelligent, integrated approach from fuel cells to infrastructure, right from design to manufacture. We believe the race for 100% clean automotive will accelerate. It can be by using our global perspective and end-to-end understanding of automotive development and manufacturing to set a higher bar for the world.
Mayank Vashisht | Sub Editor | Times EV