The Ministry of Heavy Industries has signed contracts with Ola Electric, Reliance New Energy Ltd, and Rajesh Exports, under the Production-Linked Incentive (PLI) Scheme for advanced cell chemistry (ACC) battery manufacturing.
The government had received 10 bids from companies with offers to set up 128 Gigawatt-hours (GWh) of battery capacity under the scheme. Only the three companies mentioned could make it to the final list.
The PLI scheme for advanced cell chemistry required the manufacturing facility to be set up within a period of two years. The government will disburse the incentive over a period of five years on the sale of batteries manufactured in India.
The government said that Ola Electric, Reliance New Energy, and Rajesh Exports would receive incentives under the INR 18,100 Cr PLI scheme. Further, the government is expecting a battery manufacturing capacity of around 95 GWh to be set up by these companies.
The scheme is technology agnostic and is concerned with only the stipulated battery capacity manufactured by the participants of the scheme. As such, companies are free to choose any technology, raw materials, plant and machinery, and other goods to set up their respective manufacturing facilities.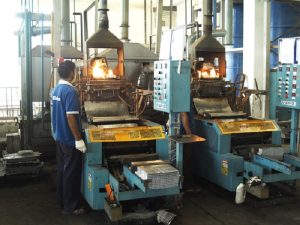 The Minister for Heavy Industries, Mahendra Nath Pandey said "this will be favorable to the electric vehicle ecosystem and energy storage market as it will support the demand for EVs and renewable and attract investments in this sector".
The Secretary to the Ministry of Heavy Industries Arun Goel said, "Now it's the time for private players to take the lead and become global champions and also make the country the global hub in the energy storage segment."
Ola Electric signed the pact with the government last month, with Reliance New Energy and Rajesh Exports signing the pact for EV battery manufacturing in quick succession. The Bengaluru-based unicorn recently unveiled its first indigenously developed lithium-ion cell NMC 2170, lining up mass production for next year.
Ola Electric is setting up a battery manufacturing plant to manufacture a total cell capacity of 50 GWh. This represents more than half of the total capacity stipulated by the three companies in the PLI scheme.
EVs have grown steadily in popularity among the Indian population as a viable alternative to their internal combustion counterparts. According to the latest statistics by the Ministry of Heavy Industries, Indian companies have sold 13.34 Lakh EVs so far, or about 0.5% of the total road vehicles in the country.
The issue of EVs catching fire was put down to the quality of batteries mostly imported from China. Therefore, it will be interesting to see how companies participating in the PLI scheme can make batteries more suited to the Indian use case.