The year 2021 has been a tough year for everyone. Industries across the globe were shut, companies were barely floating above the economic ocean, in fact, and this year had pushed the whole world almost 2 to 3 years backwards, when all we were aiming was to achieve the things new and unheard-of milestones. The unprecedented outbreak of Covid 19 had a fierce impact on all the sectors of the global economy. Businesses that were hoping to expand and grow were now barely surviving, and no sector remained untouched from the horrors of the pandemic.
However, things are changing their course now. As the whole world is rapidly moving forward with vaccination drives, the blanket of the outbreak is being pushed away. Businesses and industries are going back to Normal, but with a 'New Normal'. They are optimistic to recover the damage that has been made by the pandemic and foresee a brighter future for their operations.
ELE Times Sub Editor and Technology Correspondent Mayank Vashisht had a Candid Conversation with Mohal Lalbhai, CEO and Founder of Matter, where Mohal showcased sheer optimism about the future outlook of the EV ecosystem in India and also happen to announce the much anticipated new lanches from Matter scheduled for the next year.
Here are the exclusive excerpts from the conversation: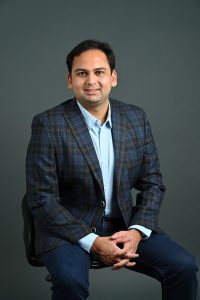 ELE Times: What would be the exciting industry developments to look forward to in 2022?
The industry is strongly leaning towards what we have been advocating for some years. The market will be led by new developments in energy storage innovations and technologies. Advances in lithium-ion battery chemistries and structure are resulting in solutions that offer increased power density, efficiency, lifespan, and improved range in electric vehicles, decreasing reliance on imports and lowering battery costs.
Moreover, with the PLI scheme coming into effect, I expect a slew of new companies to enter the market, which will be transformative, allowing numerous energy services to be provided at the same time, ranging from frequency control to load balancing and wider grid management services. The industry is expected to become more integrated as a result of sectoral integration.
Financial structuring – NBFC's: We should look at working on a solution to reduce the interest rates and pass on the benefit to the end consumers. Reducing the interest rates on EV loans by at least 5 per cent and making them more affordable will help to achieve a downstream impact on the end customer. Currently, the interest rates stand around 20% – 25% for EV 2 wheelers.
Non-Fiscal Benefits will go a long way in encouraging potential buyers to opt for electric vehicles. For eg. reducing the power tariff for charging electric vehicles, special lane access for EVs, parking incentives, road toll charge exemptions.
Nevertheless, while growth in the EV industry is on an upward tick, there is much ground to be covered to realize its full potential in the coming years.
ELE Times: What innovations are lined up for 2022 and for what application areas? (be specific to your company)
Until now, we've been discussing our highly modular technology stack and how it will affect the entire electric ecosystem. The year 2022 will see our products and solution in the mobility and energy space hit the market. The initial focus of Matter will be on the Indian market, but we are also looking at Southeast Asian markets in the near future, particularly Vietnam and Thailand. Matter has over 100 IP's presently and has many more in the pipeline in the years to come.
For MatterEnergy – The company will be focusing more on grid-level solutions such as 400 kilowatts to a megawatt level lithium-ion battery for solar and renewable management in large-scale projects on a pure B2B business basis.
We will see a synergy between Matter and Matter Energy solutions, which will help to build the entire ecosystem we've been talking about.
ELE Times: What milestones are targeted in terms of research, technology development, market expansion, and revenue generation by end of next year?
We are looking to launch MatterEnergy products and solutions in the mobility and stationary segments in the first half of 2022. Using the most advanced technology and chemistries available, we are creating highly reliable and safe solutions which can be deployed across applications, including electric vehicles.
For Matter Energy, we are working on the path of realizing our target of an annual production capacity of 2GWh by 2023 as the manufacturing plant will be scaled to its full capacity.
Matter – We plan to unveil our product in mid-2022 to Indian consumers. Our product is a highly aspirational bike that will deliver an exceptional experience, backed by the latest technology, developed specifically for the Indian consumer base
Consumers will be able to test out our offerings at Matter's many experience centers. By late 2022, we intend to start selling and customers will be able to own a Matter EV.
Further, we are currently in midst of building a manufacturing facility in Ahmedabad for Matter.
ELE Times: What policy support do you envisage from the government? Discuss in the light of taxes, incentives, infrastructure, quality power, Exim laws, and capital lending rate, labor laws, and more. Please raise the problems and its possible solutions.
There are two issues I feel the government should address
PLI Scheme – The existing approach favors established players, the schemes are not open to start-ups which poses as a stumbling block for newcomers. If we look at the EV transition in India, we can see that it has been spearheaded by start-ups and that it will take $266 billion in investment to complete this transition. Companies having a net worth of Rs 1,000 crore and a clear business strategy for investing in breakthrough automotive technology are eligible to participate in the initiative. As a result, it's critical that the government makes the scheme more inclusive for startups and offer enough incentives for them to flourish and satisfy the sector's growing demand.
Under FAME II subsidy, the government has kept a cap of 1.5 Lakh on the Ex-Factory price of the vehicle on which subsidy is applicable. Now, this is a 5-year-old price point, we should expect the government. To at least increase the limit by 10%. Fame II scheme benefits cover only electric two-wheelers, three-wheelers, four-wheeled passenger vehicles, and goods carrying vehicles. FAME 2 had increased the benefit offered from Rs 10,000 per kWh to Rs 15,000 per kWh. That's a hike of 50 percent.
There is a cap under which, so let us say that 1.5 Lakh is the cap today, so vehicles that are under 1.5 Lakh ex-factory are allowed to avail of the FAME II subsidy. We would like that cap of 1.5 to increase by 10% to be 1.65 Lakh.
ELE Times: Considering emerging technologies, what market trends are to be followed in 2 to 4 years?
The second life of Lithium-ion batteries – This new technology will be creating an altogether new value pool. Battery packs can retain approx. 70-80% of their initial capacity and can be redesigned, re-purposed, and optimized for a second life. Consumer gadgets, telecom towers, fixed and mobile energy-storage applications that are less demanding in nature can all benefit from a battery's residual capacity.
Rise of new battery technologies: What we see happening now in battery technology is explosive growth, in India and other markets as well. We need to think ahead therefore, I'm bullish on the growth of new technologies and newer cell chemistries. Very recently researchers at IIT Bombay have developed a Lithium-Sulphur (Li-S) battery with thrice the energy efficiency and cost-effectiveness, and four times the range as compared to conventional lithium-ion batteries. It is fascinating to learn that new and enhanced electrolytic solvents are being continuously introduced. The upcoming solid-state battery is also a promising candidate for next-generation battery technology.
Hydrogen as a fuel for sustainable mobility: The way the battery technology sector is booming with innovations, hydrogen fuel cell technology is being assessed as a long-term prospect to enhance internal combustion engines. It has the potential to be a practical battery-electric drivetrain replacement.
Advanced Driver Assistance Systems (ADAS). –  ADAS technology will pave the road for self-driving vehicles. The technology in India is still in its infancy, with just a tiny percentage of cars equipped with these technologies. ADAS are developed to automate, adapt, and enhance vehicle technology for safety and better driving. As the need for safer driving conditions grows in India, the ADAS market will witness substantial development.