Bengaluru-based electric mobility startup River has raised $11 Mn from investors, led by Lowcarbon Capital, a US-based VC fund by Chris Sacca, an early-stage investor in Twitter, Uber, and Instagram. Toyota Ventures also participated in the funding round.
Founded in 2020 by Aravind Mani and Vipin George, River is competing with the likes of Ola Electric, Okinawa, Aether Energy, and others in India's fast-growing two-wheeler EV space. River co-founder Mani was cited saying that the startup is in talks to raise another $100 Mn and will raise the funds before it starts selling its two-wheelers.
The startup is building the scooter specifically for carrying loads. According to Mani, a large chunk of the Indian market buys two-wheelers to carry the load. River claims that it is building an electric scooter to replace the 'pick-up truck culture of the West, implying that the electric scooter will come with significant load-carrying capacity.
"Our first electric two-wheeler will be an important milestone for our journey as a company. We wanted to focus on a niche, and we decided to focus on the multi-utility aspect of a two-wheeler," Vipin, Co-founder of River.
The startup will therefore also target another fast-growing segment within India: last-mile delivery.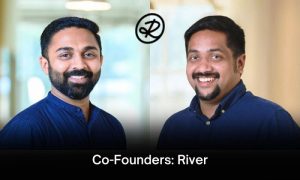 However, noting that a person would not use the e-scooter solely for the purpose of delivery, Mani said, "They will not buy a product thinking that they will only use it for delivery, so we are kind of trying to see how we can create a product which can be used for multiple things."
"Three of four vehicles sold in India are two-wheelers, but what is available today have loud, dirty, gas-burning engines from last century. River's electric two-wheelers are the new go-to for Indian riders because they're faster, tougher, and just plain cooler than anything else on the market" said, Chris Sacca, Managing Partner of Lowercarbon Capital.
The electric mobility startup did not reveal any information about the vehicle, however, it has been working to set up a manufacturing facility. River's first production facility will be set up near Bengaluru, producing 10,000 vehicles a month. The startup also plans to run a distributor model with dedicated service points.
India saw a marginal increase in EV registrations in July, with Hero Electric topping the charts. While EVs are being touted as the future of mobility, consumer anxieties related to range, efficiency, and the recent fire incidents have seen demand shrink for some of the EV players.
To sort out one of the most important issues with EVs, that is, the battery, the government introduced the PLI scheme for manufacturing advanced cell chemistry (ACC) in the country.
The PLI scheme, worth INR 18,100 Cr, has seen participation from Ola Electric, Rajesh Exports, and Reliance New Energy Ltd. Together, the three companies will create 95 Gigawatt-hours (GWh) of energy storage capacity.